Touted as the only crypto card that can be used anywhere in the world, Crypterium has been quite highly anticipated by crypto enthusiasts. The card lets you spend Bitcoin, Ethereum and other cryptocurrencies in stores and online, and you can even use at more than 2 million ATMs globally. For those who have been looking forward to cryptocurrency's move into the mainstream, this card seems to bring that dream closer to reality. But how well does it perform, really?
What is Crypterium all about?
Crypterium offers an all-in-one platform for your crypto and financial needs. It's a mobile crypto wallet, a prepaid card and has banking services which allow you to earn interest with your crypto holding and transfer funds. At the moment, Crypterium supports BTC, ETH, LTC, USDC and CRPT.
It's pretty easy to get started with Crypterium. All you need is the Crypterium mobile app! You can use it to access all of its services and even use it to send crypto to others through their phone numbers. Since these transactions are done off-chain, it is done instantly and no transaction fees will be incurred!
How does the Crypterium Card work?
The Crypterium card is a pre-paid card which you can top up using the mobile app. The great thing about the card is that it lets you pay with your existing wallet balance, while merchants, on the other hand, receive your payment in fiat. This means you don't need to liquidate your digital currencies to make payment. No doubt, the Crypterium Card provides a convenient payment for users who want to spend with crypto. As long as you're using your card where UnionPay is accepted, you can make transactions with the Crypterium Card. 
Ordering the Crypterium Card is pretty simple. You can simply make an order with its mobile app. There are 3 different categories you can choose from: Crypterium Basic (FREE) , Crypterium Plus ($2.99/ month), and Crypterium Premium ($8.99/ month). However, according to this article, only the basic card is available at the moment. The most basic plan puts a limit of $1000 on crypto-fiat transactions and allows a total of 4 wallets. It does not have priority support, savings accounts, account insurance, and personal manager. 
At the moment, the base currency of the Crypterium Card is USD. Each time you top up your card, you convert its value to USD. Crypterium's AI system monitors crypto exchanges closely and chooses the optimal rate for your transactions so you'd pay the least conversion amounts.
How can I get the card?
This is perhaps what sets the Crypterium Card apart from other crypto cards in the market – you can order the card from any part of the world. All you need to do is to download the app and order a card from there. Reviews on this site are raving about how quickly they've received the Crypterium Card – one user said he received it within 2 days! If you're located in countries like Brazil, Nigeria, or a part of the world where you can't get your hands on a crypto card, the Crypterium Card is your most accessible option at the moment. 
That being said, there are a few countries where the Crypterium Card is not supported such as Cuba, the Crimea Region, Sudan, Iran, North Korea, and Syria.
There are a few more things to take note when you're ordering the card. First, you'll need to have some BTC in your Crypterium Wallet before you can use the app to start ordering. To reduce your card issuance fee, you'll also need to lock in 199 CRPT Tokens in your Crypterium Wallet.
Is the Crypterium Card worth it or…?
The Crypterium app seems to be an interesting product and its prepaid card seems to be the perfect complement to its Crypterium Wallet. Nonetheless, there are some shortcomings which you should keep in mind before diving right in and making an order for yourself.
Some of the features Crypterium claims its card covers include account insurance, savings account and personal manager. These features are available if you ordered the Crypterium Plus or Crypterium Premium Card. However, only the basic card is available at the moment and cards from the other two tiers are still in development. At the moment, the basic features make it no more than just a prepaid crypto card — not quite a groundbreaking financial product. It does not promise priority support, account insurance, a savings account. Additionally, its crypto-fiat transaction limit is capped at a mere $1000. Although it promises to be an all-in-one payment solution, its basic plan isn't quite up to par.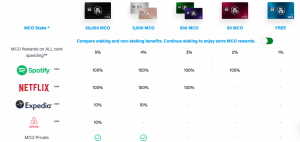 The Crypterium Card seems to be a breakthrough financial product on the surface but clearly, there's still a lot of room for development. As with most crypto projects, Crypterium is still undergoing development and there's hope that its future developments will fulfil its promises. That being said, many crypto projects never really take off and it's better to practice caution than be overly hopeful about the Crypterium Card. 
Have you tried using the Crypterium card yet? Share with us your experience!